A "dream" come true: SIS hosts first live production in three years
On Aug. 23, rehearsals for SIS Drama's new play, "A Midsummer Night's Dream", started, with the performance dates set to Nov. 3-5. Although there were some ideas for productions in the last three years, COVID restrictions prevented them, making this production very special to many drama enthusiasts. 
"I was in the audio-only play before, so for me, it is really nice that we're able to use the stage again," Alma Tyvand (10), cast member, said. "As much as the new format was fun, it was not as fun as preparing for a live production, such as having to memorize lines, finding costumes, and being involved in setting up the actual stage." 
The production is set in London in the early 1980s and shows the conflict between the music scenes at the time, such as Punk movement and the New Romantic movement. It will focus more on showcasing the casts' talents and having fun and include opportunities for many music-related components, such as singing, dancing, playing instruments, and even composing original songs. 
"I made those changes because it is always fun to come up with a new setting and 'A Midsummer Night's Dream' is one of the Shakespeare plays that gets changed around the most," Iain Cowieson, drama teacher, said. "The original forest-like setting had been done a lot already, and the idea is that the London Underground is our magical world."
Although many students were concerned about the possible outcome of the play due to many live events being canceled throughout the last few years, the people involved are optimistic about the future of the production. 
"Apart from just being brand new, everything has been pretty smooth," Mr. Cowieson said. "It's my first live production in three years as well because I was not able to have any at my old school for the same reasons. We have to work pretty fast through the rehearsals, since the play is in early November, but with the standard of the cast and the people working backstage, I think we can pull it off and make a great show."
About the Contributor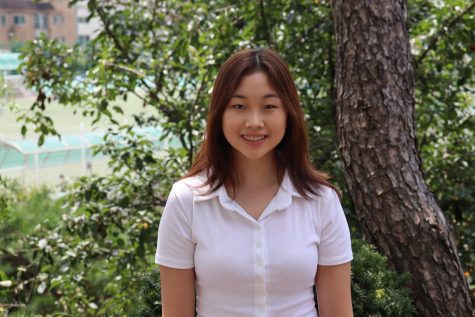 Hannah Yi, Reporter
Hannah is a sophomore reporter of Tiger Times. She loves drawing, writing narratives, and listening to new genres of music. In her free time, she enjoys...