SIS cross country runs at Jeju for AISA
The SIS high school varsity cross-country team took part in the 2022 Association of International Schools of Asia (AISA) tournament held at KIS, Jeju Campus, on Sept. 23. The varsity boys placed third and the girls placed second among the five schools competing—SIS, KIS, KISJ, YIS, and SOIS.
"We might not have won, but I am very proud of our team," Jennifer Kurbel, cross country coach, said. "I would not swap this team for any other team, regardless of how well they did in this tournament."

Due to Japan's strict travel restriction policies, the Japanese schools including YIS and SOIS were unable to travel to Jeju. To standardize the races, the Japanese race and the Korean race took place separately on similar 400-meter tracks, and the times were compared virtually.
"I did not like that we had to run on a track," Eric Lee (12), cross country captain, said. "All of our ankles were sore the next day from constantly having to turn around and around."
Some notable SIS performances included Paul Moon (11) and Sean Kim (9) for the boys, who came third and sixth respectively, and Talin Tyvand (12) placed seventh among the girls.
"I can't believe I lost fourth place by 1.23 seconds," Sean said. "The final sprint was so close. I am going to train harder so this doesn't happen again."
After the race, the team relieved their pent-up adrenaline by letting loose at the beach. The boys played tackle football, recreating the famous "Top Gun: Maverick" beach football scene, while the girls hung out in and around the Jeju water.
"The trip was amazing overall, and I loved it," Elana Kim (11), varsity cross country athlete, said. "The beach trip was by far my favorite. Swimming in the ocean after running felt so relaxing, and we were able to release all our stress and let loose."
Despite their loss in AISA, the boys are currently ranked first in KAIAC with a 22-1 record, and the girls are fourth with a 17-6 record. This is the best SIS varsity boys performance in years in a sport usually dominated by SFS and KIS. 
"There is only one more race before the championships," Coach Kurbel said. "AISA was fun, but what really matters is KAIAC. We will be matched up with both KIS and SFS, and we will see if our team has what it takes to finally take first place."
About the Contributor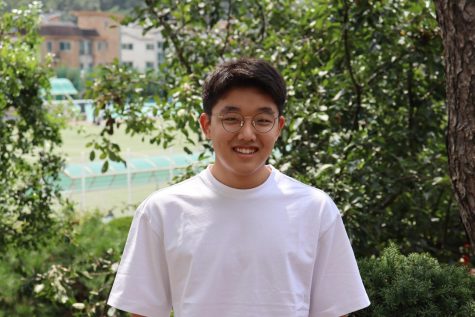 Paul Moon, Reporter
Paul is a junior reporter for Tiger Times. He likes running at night and enjoys the night city view. He watches way too much Youtube and loves watching...