K-Pop boy band Omega X takes steps to press charges against former CEO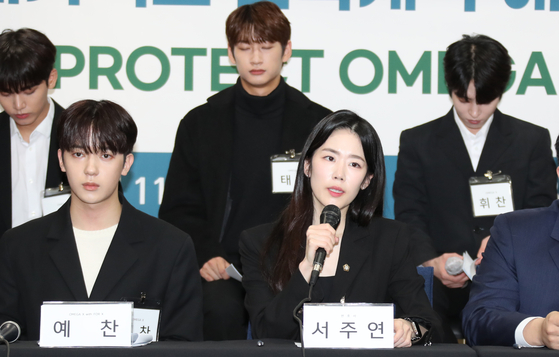 On Nov. 16, in a press conference at the Seoul Bar Association, K-Pop group Omega X announced the termination of its contract with Spire Entertainment following plans to take legal action against the company for verbal, physical, and sexual abuse. 
The allegations first surfaced on Twitter after a fan uploaded a video featuring the boy band and the head of Spire Entertainment on Oct. 23, the day of the group's concert in Los Angeles. The file features Kang Seo-hee (head of Spire Entertainment) yelling: "Who do you think you are?", "You, stand up", "Do you think losers like you could be loved by people?", "Are you big? You didn't come this far on your own.",  as well as a male voice replying with "We're one step away from collapsing." 
The video ends with a thud and the sound of someone crying. The same fan claims that he/she witnessed the incident and saw a female employee of the company pushing and striking the members. 
"I first came across this video on TikTok," Rachelle Park (12), active social media user, said. "I was surprised not only because I did not expect such physical abuse to continue in the K-Pop industry, but also because this act of violence was committed in public. This only made me wonder the extent to which Omega X faced abuse and exploitation on a daily basis."
Though the agency issued a statement on Oct. 24 denying all allegations of such abuse, the video has stayed viral on social media. On Nov. 6, Omega X created a new Instagram account to communicate with fans about the upcoming lawsuit. As the controversy continued, Spire Entertainment announced that the CEO of the company had voluntarily resigned the day after the boy group broke their silence via social media.
During the conference where Omega X was accompanied by two of their legal counsel, members revealed that Kang forced them to drink with her, verbally abused them with various threats ranging from murder, suicide, banning production of future albums, and sexually harassment. The attorneys are pressing charges against Kang for physical assault, sexual harassment, financial exploitation, and threatening behavior. 
"I watched clips of the press conference live," Aaron Kim (11), avid Korean news viewer, said. "Based on the way the members talked, you can visibly see how traumatic this experience was for all of them. Many were crying and shaking, yet you could also see how determined they were to reveal the truth."
The band asserted that even employees and managers yelled insults, gaslit, and physically assaulted them. Such abuse and sexual harassment had been continuing for the past year. Members, however, endured this treatment because of their lack of power and desperation to remain in the industry. Many members are undergoing psychiatric treatment, but still report having panic attacks. 
"Knowing that members have endured harsh treatment for years, it would take significant medical treatment to help return them to their stable mental state," Lina Hwang (11), follower of Omega X, said. "I hope that they get sufficient rest and are able to make a healthy comeback one day."
Though the general public reacted in disbelief that exploitation and abuse is a lingering issue within the K-Pop industry, Omega X revealed that they faced similar treatment with their previous agency.  
 Omega X's attorneys addressed that many K-Pop artists are also unaware of the law, leading them to sign contracts full of loopholes. Even if artists are aware, many choose to comply with unfair conditions because they feel like they have no other alternative. 
"Most K-Pop aspiring artists sign with a company from such a young age," Lucy Park (9), K-Pop fan, said. "They thus have little knowledge about the industry and companies can easily take advantage of them. Entertainment companies must work towards providing fair treatment and eliminating any form of misconduct to avoid issues of the similar tier from continuously occurring."
The band wanted to seize this opportunity to represent those who were and are mistreated. Similarly, many K-Pop fans hope that this case will serve as a catalyst for improved treatment for artists.