What's driving the NBA scoring boom?
Even by the NBA's standards, Donovan Mitchell's 71-point game against the Chicago Bulls on Jan. 2 was a rarity. No NBA player had scored more than 70 points since Kobe Bryant's 81-point game in 2006 until Mitchell, who became just the seventh player in NBA history to have scored 70 or more points in a single game. 
But Mitchell is not alone in having high scoring games this season. There have already been 16 games where a player has scored more than 50 points; just ten years ago, in the 2012-'13 season, only three players had 50-point games. In this season, Luka Doncic has single-handedly topped 50 points three times. 
For the past four NBA seasons, there was an average of 20 50-point games. Though only half of the season has passed, this season already has 17 50-point games. Experts believe this phenomenon to be a result of  increased offensive efficiency and lack of defense in modern NBA games.
"Some of my favorite players have been having 50 point games," Julie Koh (9), NBA fan, said. "I remember Stephen Curry had a 50 point game against the Phoenix Suns in November. I'm amazed at how players are developing new skills that are helping them score over defenders." 
Ten years ago, the average points scored by an NBA team per game was 98.1. This season, that number hovers  around 113.8, which is also the highest since 1970. This is mostly due to the NBA's dramatic increase in pace, as the past decade has seen an uptick of nearly ten possessions per game. With more possessions, players take more shots, leading to more points.
"There have been two reasons for the increase of pace in the NBA," James Tyvand, varsity basketball coach, said. "One is that the teams are willing to shoot earlier in the shot clock because they have already spaced the floor and everyone has a green light to shoot. Another is that five years ago, they changed the shot clock setting so that after you get an offensive rebound, the shot clock resets to 14 seconds instead of 24 seconds. So, off of a missed basket, you only have 14 seconds to shoot again, which has quickened the game."
Another factor for the scoring boom is the increase of 3-pointers. Ten years ago, teams averaged 7.2 three-pointers per game. This season, that number stands at 12.2. The 3-pointers help players reach higher points. For example, Klay Thompson and Darius Garland scored 10 3-pointers when they had their 50-point games, which accounted for more than half of their scoring. 
The NBA has seen numerous other offensive records fall as well: teams have a record-high 47.1 field goal percentage and one of the highest offensive rebounding rates in the past few years. All of these factors have combined to make this season one of the prolific scoring seasons in history.
"It is amazing how these players are able to score so much at such a high level," Aaron Kim (11), varsity basketball player, said. "Even scoring a 30-point game at the high school level is impressive. Players scoring 50, 60, 70 points at such a high level like the NBA just shows how skillful and top-class they are."
About the Contributor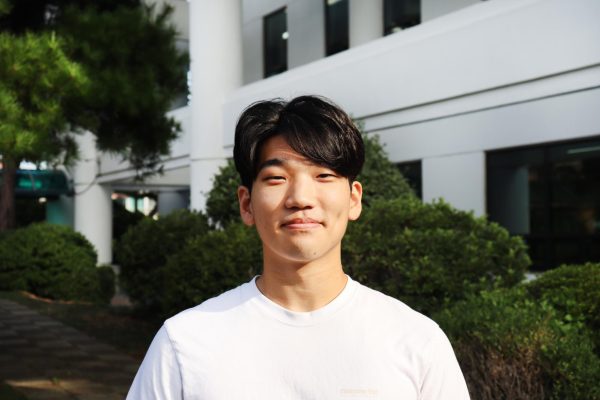 Eric Hyunseung Cho, Reporter
Eric is a junior reporter for Tiger Times. He has a voracious appetite for more than just food. His love for thinking about mathematics and space is matched...