"The Glory" director swept up in controversy
The long-awaited part two of the K-drama "The Glory" was released on March 10, immediately capturing the hearts of the audience and dominating Netflix rankings. Amidst the global success of the show, however, people started to shine light on director Ahn Gil-ho's past and noticed some problematic scenes within "The Glory." 
Controversy first arose when an anonymous post spread online through news outlets, claiming that Ahn had physically assaulted younger students at an international school in the Philippines back in 1996. While he denied these accusations completely at first, he later admitted to these allegations as more people came together to affirm them. 
"I was really shocked when I heard about this," Kate Kim (11), a fan of "The Glory," said. "I never would have guessed that Ahn had such a past. I think it's ironic that a perpetrator of school bullying is directing a drama that deals with getting revenge on perpetrators of school bullying."
Ahn was also criticized for including many scenes with explicit nudity and sexuality in the drama despite the reluctance of female actors to expose too much skin. In an interview with Allure Korea, Cha Joo-young, actress who played the character Choi Hye-jeong, explained her initial reluctance to wear one of the tight-fitting outfits for Hye-jeong's role. She stated that Ahn continued to persuade her to wear it, and she eventually gave in. 
In part two of the drama, there is a scene in which Hye-jeong's entire upper body is exposed without any censorship. Many people called this out for being problematic, especially after Joo-young expressed her unwillingness to wear revealing clothing and her discomfort at showing too much skin. Although another actress actually played Hye-jeong in that one scene, many still think that it was an unnecessary addition that made the audience feel rather uncomfortable. 
"I do think that to some extent, the scene was unexpected and explicit," Jennie Koh (11), fan of "The Glory," said. "But on the other hand, I'm sure the actress would have agreed to it prior to filming, and it revealed a bit more about her character."
About the Contributor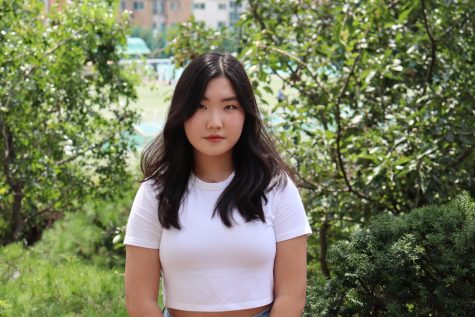 Sophie Choi, Reporter
Sophie is a junior reporter of Tiger Times. She loves watching K-dramas, hanging out with friends, and spending money at Sanrio stores. She also loves...