Meet Yates Park, Assassin winner
NOTE: This article connects to the previous Assassin article.
After a long journey of killing his targets one by one and avoiding assassination attempts, Data Science Club representative Yates Park (10) finally claimed victory in Assassin on Sept. 23.
Yates entered this year's Assassin with a mindset of revenge. Last year, Issac Lee (10) eliminated him early in the game, so Yates sought to take Issac down and be the last man standing.
"Even before the event started, I devised a strategy to effectively assassinate my targets," Yates said. "I first got information from my friends on my targets' classes. As soon as my first or third period class ended, I ran to my target's class, camped somewhere nearby, and aimed for a stealthy kill."
In the first round, Yates was matched up with Keanu Park (10), Alex Lee (10), and Issac. It was finally his chance to seek revenge on Issac.
"Killing Issac was my greatest moment of thrill," Yates said. "I stealthily snuck up to him and took my picture on Sept. 19 during activity period. He did not even notice I was there until the camera shutter clicked—it was fun to watch his surprised face."
For his next mission, Yates was given targets Julie Koh (9), Ava Park (9), Danny Han (10), and Eddie Chu (11). 
"There were more assassins that could aim for me in the second round, so I stayed cautious and made sure to never let my guard down at all times," Yates said.
Yates said that Danny almost killed him during this phase. "Danny and I took a picture of each other at the same time, so it was a fight between who sends it first to HSSC," Yates said. "Luckily, I was slightly faster."
Yates claimed that the final round, involving Alice Lee (12), Yeonjae Kim (9), Yenna Ko (12), and Daniel Shin (11), was the toughest. 
"Compared to prior rounds, where I mostly assassinated my friends, none of the targets from the third round were from my grade," Yates said. "It was mentally difficult to approach upperclassmen I do not know well: it felt impolite to do so."
Nevertheless, Yates overcame this pressure and eliminated Yenna and Daniel, the third and second place winners respectively, claiming his crown.
"From nearly getting killed to assassinating my upperclassmen, the whole Assassin game was a fun, memorable experience," Yates said. "I am looking forward to participating again next year."
About the Contributor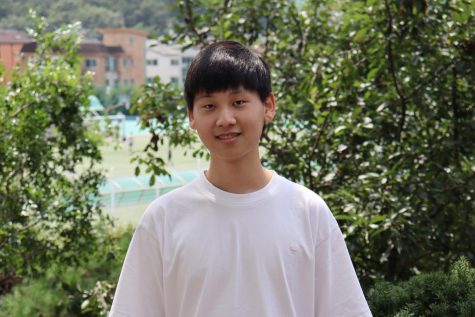 Joseph Chun, Design & Production Editor
Joseph is a junior copy editor for Tiger Times. He is a night person and often heavily relies on coffee. In his free time, he loves to watch LoL Champions...