SIS plays GSIS at volleyball home game
The SIS varsity and JV volleyball teams played GSIS at SIS on Oct. 5. The home game resulted in another commanding victory for the boys varsity team (3-0), girls varsity team (3-1), and the girls JV team (2-0). Unfortunately, the boys JV team suffered a loss (0-2). 
The boys varsity team had to play in the absence of one of its starters, Jordan Kim (12), due to his leg injury. Regardless, the team was able to win the game by cooperating and adapting to the sudden situation. 
"I thought the boys varsity team played very well," Glen Monaghan, boys varsity volleyball coach, said. "Even though one of our starters was down, we were still able to pull out a convincing victory. Our non-starters also played very well, and I was proud of them as they don't play as often. I was most impressed with the boys doing things in the game that they practiced and implementing them in a well-executed manner" 
In preparation for the game, both the JV and varsity teams practiced various moves and strategies during practices to ensure quality performance on game day. For instance, the boys varsity team mastered back hits from the pike position and performed it in the game—one of the many moves that helped them secure their win. 
"One thing we have been doing to train is practicing with the varsity volleyball team," Eunbin Macklin (10), JV girls volleyball team member, said. "We have also been practicing serves and receives as well as reviewing game videos from away and home games to see what we specifically need to work on. This helped us truly reflect on our performance and fix our weaknesses." 
During the game, volleyball managers helped maintain the teams in prime condition by providing amenities like water ready to go in case the players needed them. They have been attending all away matches and meets, keeping stats, filming games, scorekeeping, managing equipment, and helping with drills to support their players in the best way possible all throughout the season. 
"For today's game, my job was to record the match so that the players would be able to look over it during future practices and identify regions that they need to improve in," Lucy Jang (10), manager of JV girls volleyball team, said. "Other than that, I tried my best to help the team out by bringing them anything they needed—for example, hair ties and snacks."
The varsity teams left for Jeju to participate in AISA on Oct. 13th, and they will strive to continue their good streak for the rest of the volleyball season.
About the Contributor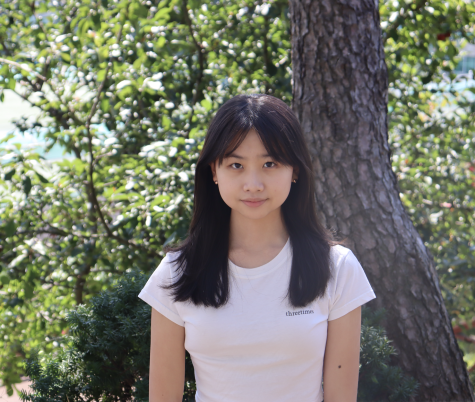 Chelsea Kim, Reporter
Chelsea is a sophomore reporter for Tiger Times. She possesses a great appreciation for literature and enjoys listening to music and binge-watching movie...