Korea celebrates Hangul Day with activities
Hangul Day on Oct. 9 marked the 576th year since the proclamation of Hunminjeongeum by King Sejong, the book detailing the mechanisms behind creating the Korean language. Various organizations hosted activities throughout the week of Hangul Day to spread Korean culture and language.
In Seoul, the Korean Culture Association hosted music festivals and a musical named Ido, which bases its plot on the invention of the Korean language, all of which incorporated traditional Korean instruments. The National Hangeul Museum opened a new exhibition, "Reinterpreting Hanguel In The Modern Era" that displayed the evolution of Korean through various artworks.
"I really like learning about Korean culture as I think it is really unique," Eddie Chu (11), Taiwanese citizen, said. "However, I think there could be better ways to spread its traditional culture. Organizations could incorporate more technology in their events to try and reach a wider audience."
Hangul Day is especially unique as it is the only national holiday in the world that celebrates the creation of a letter system. This is possible because the original copy of  "Hunminjeongeum" is preserved, so scholars know exactly when Hangul originated.
Hangul Day was not always a day off for Koreans. Starting 2005, Hangul Day became a national holiday, and eight years later, became a day off for all Koreans. This is because the Alternative Holiday System, reserved for specific holidays the government deems important, applies on Hangul Day. Thus, if Hangul Day is on a Saturday or a Sunday, the following Monday is a day off, which was the case this year.
There are some that view Hangul Day as just another day off. Especially since Faculty Professional Development Day was on Friday of the week of Hangul Day, SIS students enjoyed an extra long weekend.
"My family traveled to Eulwang-ri during the four-day weekend," Chong Min (10), a new student from the US, said. "We had the chance to explore the area leisurely as the long weekend gave us a lot of flexibility on time."
Nonetheless, some view Hangul Day more critically.
"While I do like to learn more about the Korean language, as a non-Korean I never really participated in these activities," Eddie said. "I feel like a lot of these activities are a bit intimidating for foreigners to try as the experience is tailored more towards Koreans."
In light of this, corporations have made smaller changes to increase awareness of Hangul Day. Companies such as Samsung, KBS, and Naver displayed a logo with only Korean letters during Hangul Day on their websites. The National Hangeul Museum also hosted challenges about Korean online for people to attempt for a chance of winning prizes.
About the Contributor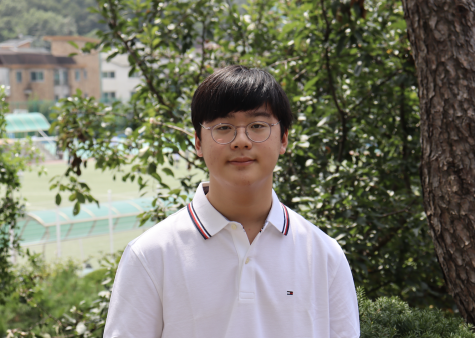 Andrew Shin, Reporter
Andrew is a junior reporter for Tiger Times. He enjoys cycling, watching anime, and programming in his off-time. Feel free to approach him with anime recommendations!