Fall Sports Ceremony honors athletes
The Fall Sports Ceremony was hosted in the Auditorium during activity period on Nov. 9th, concluding the fall season. 
"We finish every season with an award ceremony. It is a chance to celebrate athletes both from a team perspective and with individual accolades." Jonathan Ames, Athletics and Activities Director, said. "Having the awards to recognize certain individuals for their leadership and performance bodes well for other athletes to work harder in the offseason to improve their skills and contribute to the team as a whole." 
Unlike last year's fall season, this year, the school's cross country, volleyball, and tennis teams were able to compete with other schools and participate in the KAIAC tournament. 
"This year we were able to go to a lot of schools every week," Jason Baek (11), a varsity volleyball player, said. "We could see how we stood against other competitive schools, so I think this was a very valuable experience."
The Sports Ceremony allowed the coaches to recognize student athletes with the Coach's Choice, Most Valuable Player (MVP), and Most Improved Player (MIP) awards. Additionally, athletes could vote for superlatives among themselves. 
The varsity boys cross country team received the All-Conference Championship award and finished fourth in the KAIAC tournament, losing to SFS by one point. Coach Kurbel selected Eric Lee (12) as Coach's Choice, Paul Moon (11) for MVP, and Terry Seong (10) for MIP. Paul also received a 300k off-season training patch. 
The varsity girls team placed sixth in the tournament and fourth in the conference. Eunice Rhee (12) was awarded Coach's choice, Talin Tyvand (12) was selected as MVP, and Elena Kim (11) received MIP. Talin and Irene Nam (11) were recognized as AISA All-Conference. 
The varsity boys volleyball team also won the All-Conference Championship and placed fourth in KAIAC. Coach Monahagen selected Phillip Ham (12) and Andrew Choi (12) for Coach's choice, Andrew Ham (12) as MVP, and Joseph Park (11) for MIP. Andrew Park (12), Andrew Choi, and Bin Chiang (12) received All-Conference honors, Jordan Kim (12) received All-Tournament honors, and Bin Chiang also received the Best Passer award. 
"I believe that all the athletes who won awards were definitely worthy," Jason said. "The players were all very dedicated to the team by coming to practice early to set up the net." 
The JV boys team placed 2nd in the conference and 4th in the tournament. Winston Chen (9) received Coach's choice, Liam Lee (10) received MVP, and Jin Lee (9) received MIP. 
The varsity girls volleyball team placed seventh in KAIAC and third in the division. Coach Haggen selected Sarah Yim (12) as Most Improved Player, Yenna Ko (12) for Coach's Choice, and Aimee Choi (12) for MVP. 
The JV girls team placed second in the conference and won the KAIAC championship. Coach Nave awarded Stella Eu (9) and Sylvia Lee (9) Coach's choice, Grace Choi (10) received MVP, Kate Kim (9) Tournament MVP. 
The varsity boys tennis team placed first in the KAIAC tournament. William Kim (12), Eric Kim (12), Alex Cho (10), and Brian Ji (9) all received both All-Conference and All-Tournament honors. Coach Atkins selected Brian Ji for Coach's choice, Eric Kim received MVP, and Woosung Choi was chosen for MIP. 
The varsity girls tennis team ranked third place in KAIAC and in the conference. Coach Kuhn selected Ashley Choi (12) for Coach's choice, Amber Cheun (12) received MVP and KAIAC tournament MVP, and Seungmin Jeong (9) was chosen for MIP.  
Overall, many athletes felt that this season was successful and athletes excelled in their respective sports. 
"This was our first complete Fall season since COVID started, so having many games and competitions for athletes was a very rewarding experience," Mr Ames said. "We won more conference and KAIAC titles across four different sports, which is the most I have seen accomplished in one season." 
About the Contributor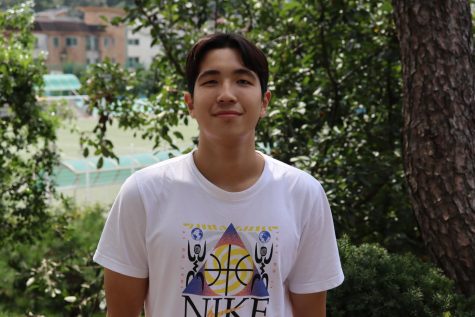 Brandon Choi, Executive Copy Editor
Brandon is a junior copy editor for Tiger Times. He likes playing basketball, watching TV shows, and listening to music. He follows US politics often and...